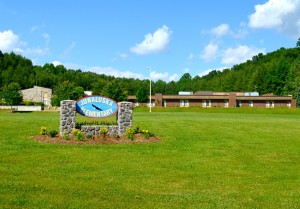 Junaluska Elementary School is located between Waynesville and picturesque Lake Junaluska in the beautiful Blue Ridge Mountains of Haywood County. Haywood County is the eastern gateway to the Smoky Mountain National Park. Approximately 440 students attend our school in grades K-5 and each child's needs are met through a variety of child-centered programs.
OUR VISION AND MISSION
Vision
Providing a positive, nurturing, student-centered environment where every student will become a lifelong learner, a successful community member, and a prepared citizen of the 21st century.
Mission
In order to ensure the success of our vision, our staff, through collaborative means will…
Provide social and emotional support to students and families.
Know and teach what children are expected to learn.
Provide opportunities for students to demonstrate their learning.
Respond with appropriate interventions when students do not master the learning.
Challenge students when they do master the learning.
Click here for our JES School Improvement Plan 2022-2024.  (Updated August, 2022)
School Improvement Team Members
Alex Masciarelli–Principal
Hayley Prince–Lead Teacher
Joy Sollie
Kristie Easler
Jenna Jones
Emily Fleenor
Brooke Nickol
Crista Butler
Taylor Willoughby
Gray Sobczyk
Alda Chambers
School Mascot: Eagles
School Colors: Red, White & Blue
The Junaluska Way
Be Prepared, Be Responsible, Be Safe, Be A Learner